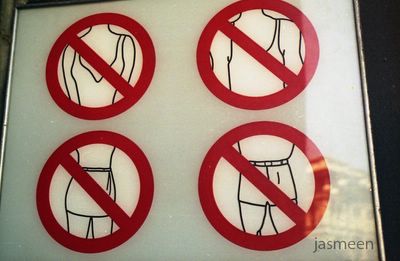 What are you permitted and not permitted to wear in college/ office/ any institution?
Can YOU send me an email as attachment or photocopy :
The rules and regulations for appropriate clothing as specified and stated by the college, school or office, any other insitute that you belong to?
(For example: some colleges say that
women should not wear a sleeveless garment
no lady is allowed to wear skirts only salwar kameez- full sleeve
(Back in school, on sports day the uniform skirt had to be six inches above the knee.)
You could also email me notes on:
What
your family thinks is appropriate
for you to wear in different places
(School days: my mother insisted I wear a slip under that white uniform)
and finally what
you think is just right/ appropriate for you to wear.